text
> SF Gate interview, Kimberly Chun, June 2016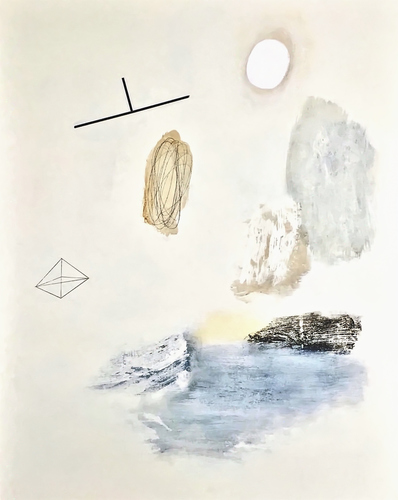 SFGate interview with Robert Kingston
"In Robert Kingston's Art, Delicacy Speaks Louder than Action"
June 2016
SF Gate
by Kimberly Chun
The gestural violence of Abstract Expressionists like
Jackson Pollock
and
Willem de Kooning
left its mark on Southern California artist
Robert Kingston
. But judging from the ethereal paintings on display at
Dolby Chadwick Gallery
, Kingston ended up going his own way.
"I wanted to be an action painter like them; then I realized I'm not an action person," said the 61-year-old. "I'm from a quieter place, a Zen-like space."
At the moment, the painter was in a far-from-quiet spot. He called from bustling Geary Street, outside the Pinecrest Diner, where he was having breakfast after the show's opening, and he was feeling the fog — an effect that seems to materialize in his works.
"There's always some aspect of blue, the quality of water or sky," he said. "I always respond to the San Francisco fog, just the way that fog softens things and then the harder shape of the cityscape pokes out of it. It's something I try to do a lot in my painting."
In "Brunelleschi in the Wilderness," Florence's Duomo emerges, with almost a rakish tilt, from a dusty, cloudy field in the foreground. That's just one overseas site that has touched Kingston, who grew up in a family that moved all over the world.
"At a certain point," he said, "I realized there is no one way to look at things."
— Kimberly Chun
Robert Kingston:
10 a.m.-6 p.m. Tuesday-Friday, 11 a.m.-5 p.m. Saturday. Through Saturday, July 2. Dolby Chadwick Gallery, 210 Post St., S.F. (415) 956-3560.
www.dolbychadwickgallery.com